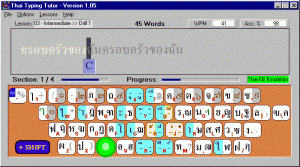 Download Link: ThaiType_V1.04.zip
Latest Features:
1.04c
hopefully fixed font display problems on international
versions of WindowsXP. Many thanks to Jinu from Korea
for pointing out this issue and suggesting the solution,
and for all the advice and perseverant testing too:)
fixed lost focus of typing window on startup
fixed incorrectly sized statistics page (on XP machines)
1.04a
Fixed the problems with installation of thai fonts on Windows XP
Many thanks to Paul M. Prez for his assistance in testing this version
1.04
After finishing a lesson, you can now choose between retrying, or moving onto
the next lesson
On startup, last lesson you worked on will automatically load
The F1 key immediately views the progress statistics of the lesson you are working on
Removed pointers on graphs when they get too cluttered
Removed the "El-Cheapo" term from the program title
('cos this program's getting rather funky!)
1.03
Added word count (approximate)
Added progress bars (for total lesson and sections)
Fixed statistics (file-reading bug)
1.02
The "View Statistics" window lets you view your progress
You can add your own lessons by putting them in the "Lessons" directory of the program
(This is a sub-directory of where you install ThaiType)
1.01
Try the "Lessons" menu for a variety of different lessons
1.00
Hints that show you which letter to press on your english keyboards… and where to find it!!
Real-time WPM (Words per minute) and Typing Accuracy displays
Thai Keyboard Mapping Emulation
Absolutely freeware!
Common Problems:
Install Problems (Vista / Windows 7)
Right click the install file and select "Run as administrator" from the context menu.
Font Problems
Some users were having problems with the thai font on Windows Vista/7 systems. Here is a manual solution:
1) Find the font file at: "C:\Program Files\Thai Typing Tutor\angsd___.ttf"
2) Drag'n'drop this file into: "C:\Windows\Fonts"
(*don't copy/paste, use drag'n'drop!)
Adding your own lessons
You can add your own lessons as text files in the path: "C:\Program Files\Thai Typing Tutor\Lessons"
These text files need to be saved as 8-bit ASCII (TIS-60), which is difficult to do in modern OSs like Vista and W7. A user online suggested the following approach:
Find any Thai words you can on web. Copy those Thai words to "Thai Language TIS-620 Converter" http://www.thai-language.com/downloads/XTIS620.exe
On the freeware. Click on –> TIS-620 to convert those Thai words to TIS-620.
Select all the Thai words and copy to notepad.
Save the notepad.
Copy the saved notepad to C:\Program Files\Thai Typing Tutor\Lessons
Now you can start your own lesson.