Earthworm Jim - Mortie and Eileen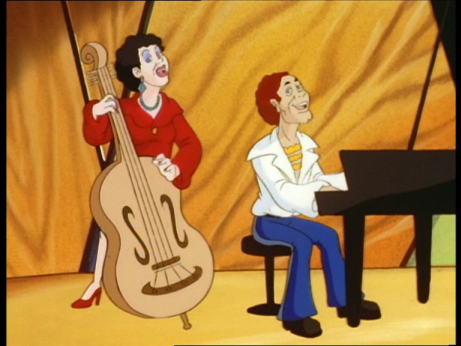 After buying the Earthworm Jim DVD boxset, I stumbled on a terrific episode, "Lounge Day's Journey into Night", where Evil the Cat is intent on destroying the universe via these two lounge act singers, Mortie and Eileen. They reminded me a little of Peter Allen and Liza Minelli (perhaps intentional? :)).
Here's a sample of Mortie and Eileen's fine body of work from the episode, very enjoyable!
The writer of the cartoon show's theme song, William Anderson, has acknowledged (conceded? confessed? :)) to being the mastermind behind these compositions :)
I've provided lyrics (as best as I could hear them), in case you want to sing along!
NOTE1: Copyright for this stuff belongs to its rightful owners, so if they ever get upset by me sharing this, well, they can let me know, and I'll take it off.
NOTE2: If your media player is having any problems playing ".ogg" files, try the VLC Media Player
---
---